Our range of MI-X Forklifts
Optimize your logistics operations with the performance of MI-X forklift trucks. Whether gas or diesel, these Manitou machines meet all industrial needs in terms of internal and external handling.
Mast trucks for all your industrial applications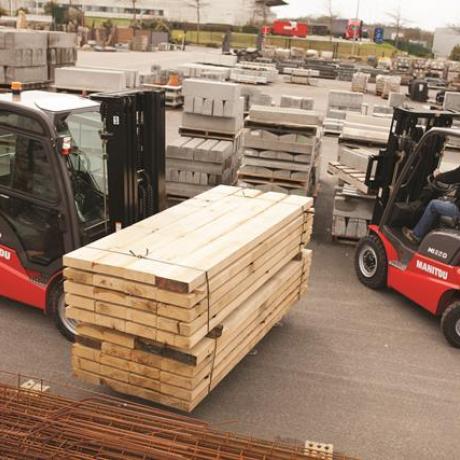 The MI-X industrial range offers 8 models of internal combustion mast trucks. Offering different lifting capacities (from 1.5 to 10 tonnes), these machines help you to carry out all your handling operations efficiently, whether outdoor and/or indoor.
MI-X masted trucks are available with gas or diesel engines. Different lifting heights are available depending on the truck - 6 or 6.5 metres max. The wide variety of the range enables you to obtain handling equipment adapted to your needs and business constraints.
In order to make MI-X forklifts extremely robust, Manitou teams have equipped the range with a monobloc chassis and reinforced axles. The care and attention given to their design make them reliable and resistant models.
The performance of MI-X internal combustion forklift trucks meets the needs of all industrial sectors. They are particularly recommended for logistics, metallurgy, wood processing, food processing, distribution and the environment. Use them on a daily basis to improve your productivity and ensure the loading/unloading, transport and distribution of your stocks of various types.
Discover our range of forklift trucks
The advantages of MI thermal trolleys for professionals
Thanks to its years of experience in handling solutions, Manitou has designed sturdy and reliable internal combustion trucks. Today, this wide range makes it an indispensable equipment for logisticians and professionals requiring high-performance equipment to transport all types of loads.
The advantages of MI-X trolleys:
Easy access to the driver's cab thanks to the handles on the left front pillar, the non-slip step on both sides and the large open floor space
Great comfort of use ensured by an ergonomic driver's station and a perfect visibility
3 types of mast capable of meeting all your needs for working at height
Robustness and strength of the structure
Ease of operation guaranteed by intuitive controls
Loading / unloading of loads
Optimal safety during the operations of ascent / descent of the station
Versatility of tasks and intensive use thanks to several compatible accessories: loading/unloading a truck, stockpiling, feeding a production line...
Several options allow you to customize your MI-X industrial forklift trucks. Manitou teams are at your disposal to help you choose the handling solution best suited to your activity.
Contact Us