Our range of competitor carriage interfaces
Because our customers sometimes have machines from several manufacturers, we offer a competitor's interface that allows the use of other accessories on a Manitou machine. Result: better use of the fleet of accessories, especially those used on an ad hoc basis.
Competition interface, opens the field of possibilities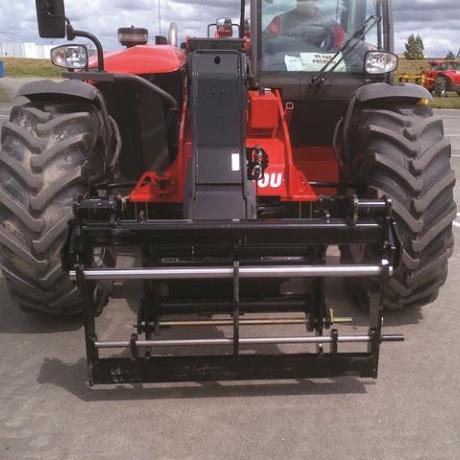 The competition interface allows you to take an accessory from a competitor's brand with an Manitou MLT agricultural telescopic handler or MLA. This reduces the need to purchase a complete fleet for each machine.
This way you optimize the use of your accessory fleet.
Important :
The competitor interface is designed to offer a load capacity at least equal to that of the MLT Argicultural Telscopic Handler on which it is validated. Nevertheless its thickness, although limited (330 mm), may limit the effective capacity.
The competitor interface is delivered with an explanatory note and load charts on bucketThis allows the user to use it safely and to appreciate the capacity of its accessory once mounted on the interface.
Manitou recommends the use of its original accessories on its machines, the only guarantee of optimum performance in daily use.
The Manitou competitor interface is available in the following versions:
Model IC-JCB, for attachment of accessories with the Qfit®" hanger
Discover the competition interface