Our range of High capacity silage & manure grab
Manitou offers you a high capacity manure grab. With its reinforced structure, this attachment is ideal for intensive handling applications. Use this model of grapple fork to transport your light straw manure in large quantities!
Improve productivity with the high-capacity grapple fork
Transporting manure can be time consuming and tedious. The high capacity grapple fork is the solution you need to operate quickly and save time on your day. Thanks to its large jaw opening, you can handle 1800* or 2000 litres of manure in a single trip, depending on the model.
The large capacity grapple has been specially designed for light straw manure (density <700 kg/m3). Its innovative design offers the operator excellent visibility of the load and the outside environment, while its total opening >90 degrees allows working against walls. Use this attachment to achieve higher productivity and work in complete safety: the mechanical stops on the grapple guarantee a longer cylinder life.
This manure grapple fork is available in two high-performance models: the FMG 2100/1800*, compatible with the MLT 630; the FMG 2450/2000, compatible with the MLT 635, 733, 737, 741, 840, 940, 961 and 1040. Check the compatibility of your machine before investing in an accessory!
The technical characteristics of the large capacity manure forks :
FMG 2100/1800* FMG 2450/2000
Capacity: 1800 liters2000 liters
Number of teeth :4 / 105 / 12
Width : 2100 mm2435 mm
Weight: 470 kg686 kg
These models also allow you to handle rectangular hay bales. Their versatility helps you save time and reduce your investment costs.
*The FMG 2100/1800 model is only available in the UK and Ireland.
Learn more about our high-capacity manure forks
A grapple fork very easy to put on your telescopic forklift truck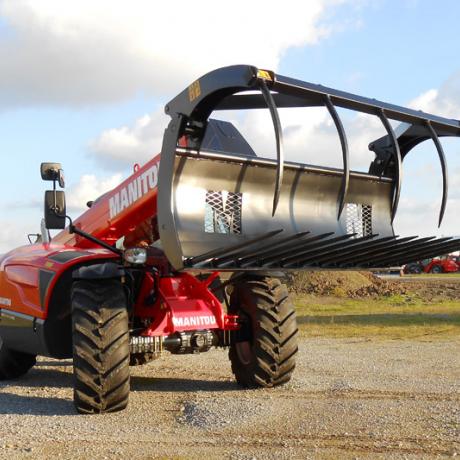 The grapple fork is easy to install. Thanks to the hitching system on the agricultural telescopic loaders If you do not have a motor, you can install the accessory in a few minutes, without having to turn off the motor.
The performance of our forks makes them the reference attachments for the most demanding farmers. Optimize your transport and storage operations thanks to their versatile use!
Several other forks and accessories are compatible with your telescopic loaders (depending on the range): manure grapple fork, square bale fork, big bag handler, square, round, wrapped, rectangular bale clamps... Find the most suitable solution for your handling needs!
Your Manitou dealer can help you at every stage of your purchase project: financing solution advice on the models compatible with your machine, extended warranty, maintenance contract...Call on our expertise! Our teams can show you the detailed characteristics of high capacity manure grapple forks!
Contact your dealer