Our Adaptations for Disability
Being a manufacturer means simplifying your daily life. Are you disabled or do you have disabled users in your teams who require specific adaptations to your handling equipment? Our "Special Solutions" team can offer machine modifications to the handicap, to ensure Manitou equipment will be able to be used in full safety. Why special adaptations? What types of special adaptations can Manitou experts design?
Why adapt your machines to the handicap?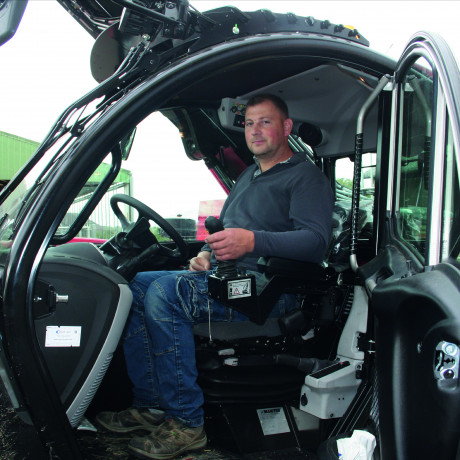 The "Special Solutions" team innovates to make your daily work easier, allowing you to work efficiently and without risk. Manitou can satisfy all requests, by designing and manufacturing machines adapted to the handicaps and constraints of users.
This can be done, for example, by repositioning the Manitou JMS joystick on the left side, as well as moving all the controls to that same side. The same goes for the hydraulic functions, which are also placed on the left side of the seat, on a removable armrest that makes it easier to enter and leave the cab. And the JMS Manitou joystick on the right is always present and can be used by a person without a disability.
Our priority is the safety of the operators of your handling machines: people with reduced mobility can indeed encounter very specific problems on a daily basis, requiring innovation and rethinking of the ergonomics of workstations, via carefully studied adaptations and layouts. It is on the basis of our customers' feedback, and to be able to meet all their needs, that we have created the "Special Solutions" team, which imagines and implements these innovations.
Call on the experts of the "Special Solutions" team!
Our dedicated "Special Solutions" team is entirely at your service to imagine adaptations of your machines, according to the constraints and specificities of their users.
Depending on the driver and his expectations, we can consider reviewing the layout of the controls, the ergonomics of the associated accessories, in order to facilitate and secure the various operations of handling / driving your machines, whatever they are.

How to get your customized machine ?
The first step will be the collection of your needs.
Then, on the basis of your exchanges, they will establish specifications, which will allow the launch of the technical feasibility study of the solution you want.

Finally, your customized machine is produced and delivered to you. Note that these adjustments can be the subject of a specific aid / subsidy paid by Agefiph covering part of the additional costs related to the customization.
Do you have specific questions? Would you like to know more about our special features? Contact your dealer, who will be happy to direct you to the "Special Solutions" department.
Contact our special equipment solutions team