Our range of Aerial platform for roofers
Manitou offers roofers a perfectly secure fixed platform. Approved for 3 operators, this model offers a total capacity of 1000 kg, of which 400 kg can be supported by the overhang part located at the front. Optimize your roofing work and your handling operations at height thanks to the performance of our aerial work platform!
Platforms specially adapted to cover operations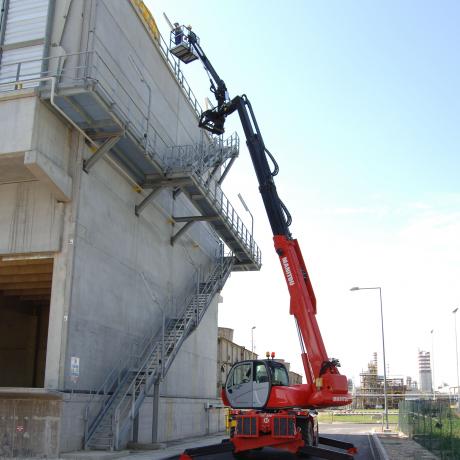 In order to carry out roofing work in optimum safety conditions whatever the constraints, Manitou has created a aerial platform for roofers.
The platform ensures maximum operator safety. Several systems guarantee safe operating conditions: 2 sensors in contact with the roof, sensors preventing movement when the front part is folded, opening of the barriers only possible if the sensors are in contact with the roof.
This roofing aerial work platform has a high load capacity. It can accommodate 3 operators and also allows you to transport your tools. A sliding barrier also gives you the possibility to access the platform from each side.
The roofing platform is compatible with the rotating telescopic handlers MRT Easy S2 and MRT Privilege +. Remember to check the compatibility of your machine in order to find the accessory you need.
The technical characteristics of the aerial work platform:
Load capacity (users included): 1000 kg
Working width: 2.3 x 1.2 meters
Rotation: +/- 90 degrees
Number of legally approved users: 3
Weight: 1098 kg
Discover our range of platforms
What are the advantages of the aerial work platform for roofers?
Manitou used its extensive know-how to design a steerable aerial platform capable of meeting the requirements of roofers and professionals requiring state-of-the-art equipment. Thanks to our extensive experience in the field of material handling, our aerial work platforms provide a high-performance lifting solution with many advantages:
Maximum operator safety
Comfort and ease of use
Large working width
Swivel platform
High lifting capacity
Design adapted to work on roofs
Sturdy and resistant equipment capable of lasting over time
Multi-purpose use (renovation of facades, roofing, structural repairs, maintenance of industrial equipment, building maintenance, etc.)
High precision of movement and approach
Simplified maintenance
The roofer's platform is easy to install on your rotating telescopic handler. Install your accessory in a few minutes thanks to the Manitou attachment system on the machine (simple deck with manual or hydraulic locking). An ideal condition to save time and improve your productivity.
Contact your Manitou dealer to be accompanied in your project of purchasing a roofing aerial platform. Our professionals can advise you and implement the solutions best suited to your objectives.
Contact a Manitou dealer