Our range of Platforms for telehandlers
Discover our models of aerial work platforms for telescopic handlers. These approved accessories for up to 3 people ensure maximum safety for your operators. Take advantage of their performance to carry out your handling work in optimal conditions of comfort and efficiency.
Secure your operations at height with Manitou aerial work platforms.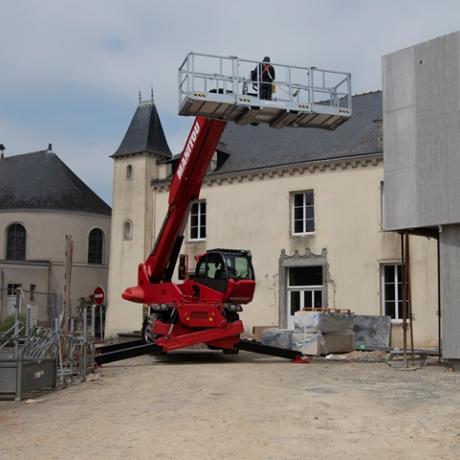 Manitou offers 3 models of standard aerial work platforms. These top-of-the-range lifting solutions allow you to access the most remote areas of your construction sites or industrial sites in complete safety.
Manitou aerial work platforms can be adapted to a wide variety of applications: maintenance of industrial equipment, facade renovation, roofing, installation of lighting or advertising signs, construction. Their versatility provides you with a solution for each of your business problems.
For more comfort and flexibility, the aerial work platforms give you the opportunity to access both sides of the platform with a sliding bar. Their non-slip metal floor and overload sensor also enhance your safety during operations.
Manitou aerial work platforms are available for all 3 of our high performance machines. These lifting accessories with different characteristics can be installed on several ranges of heavy capcity telescopic handlers (MHT), rotating telescopic handlers (MRT) or Construction Telescopic Handlers (MT). Check the compatibility of your material handling equipment before investing in an aerial work platform!
The technical characteristics of Manitou aerial work platforms :
Load capacity (users included): 200 or 365 kg
Working width : 1390 m or 2000 m
Rotation: N/A or +/- 90 degrees
Number of legally approved operators: 2 or 3 depending on the model
Weight: 165, 410 and 570 kg
Sheaths are standard on all carriers.
Check the detailed specifications of each platform and choose the model that best suits your requirements.
Discover our platforms
Why use an aerial work platform on your telescopic handler?
Manitou aerial work platforms are handling solutions known worldwide for their reliability, performance and solidity. They offer their users many advantages in daily use:
Comfort and ease of use
Maximum safety during operations
Large lifting capacity
Multifunctional use
High precision of movement and approach
Large working area
Approved model meeting all European standards
Easy maintenance
Manitou aerial work platforms also have the advantage of being easily interchangeable. Thanks to the attachment system on our telescopic trolleys, you can install the accessory in just a few minutes! An undeniable asset to save time and improve your productivity.
Manitou offers several other ranges of access platforms for your telescopic forklift handlers: extendable access platform, raised extendable access platform, roofing access platform, access platform with winch, etc.
Would you like to buy a Manitou aerial work platform? Our dealers will respond to your requests as soon as possible. Contact the professionals located near your sites or worksites, and obtain customized support services. Our teams are at your disposal at all times to help you find the model best suited to your needs.