Our range of Roofing platforms
Are you a roofer looking for an aerial work platform that meets your specific needs? Manitou has designed a range specially adapted to your applications. Compatible with rotating and construction telescopic forklifts, this model guarantees maximum safety for your operators.
A cradle specially adapted to cover operations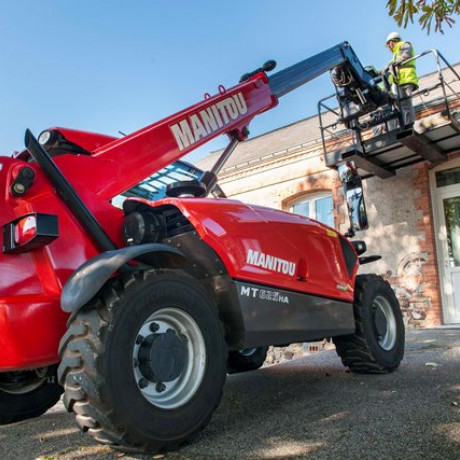 As a roofer, you have to work at heights every day. Your various roofing operations must be carried out with precision, in order to guarantee ideal conditions of safety and efficiency. The Manitou roofer's platform has been specially designed for working on roofs. With its "spike" shape, it allows you to easily access the working area and operate in complete safety.
The roofing platform is approved for up to three operators. To reinforce the safety of people, it is equipped with a front sensor, allowing opening in case of contact with the roof, as well as a roof presence and overload sensor. Its non-slip metal floor also enhances your safety during interventions.
The basket is ideal for cleaning, maintenance and roof construction. It can also be used for the maintenance of lampposts or industrial infrastructures, as well as for the pruning or hanging of various elements.
Manitou offers two models of special roofing platforms: the NC 365 and the NC 1000. Offering different load capacities, these gondolas are compatible with several ranges of telescopic rotating (MRT) and telescopic fixed construction (MT) handlers. Remember to check the compatibility of your machines before investing in an aerial work platform!
The technical characteristics of the roofer platform :
NC 365 NC 1000
User basket capacity included: 635 kg1000 kg
Working width (m) : 2.4/3.7 2.4/3.7
Rotation : +/- 90 degrees +/- 90 degrees +/- 90 degrees
Number of users : 3 3
Weight : 920 kg 920 kg
Discover our range of platforms
What are the advantages of the Manitou roofing platform?
The Manitou Roofing Platform is a handling tool that offers several advantages for roofers and professionals requiring advanced equipment for working at height:
Maximum operator safety
Comfort of use
Large working width
High lifting capacity
Design adapted to work on roofs
Robust and resistant material
Multi-purpose use
High precision of movement and approach
Compatibility with several telescopic construction and telescopic rotary trucks
The roofing platform also has the advantage of being very easy to install on your machines. Thanks to the Manitou attachment system, you can attach/unattach your accessory in a few minutes.
Are you interested in purchasing a Manitou roofing platform? Contact your dealer! Our professionals will respond to your requests as quickly as possible and can assist you at every stage of your project.
Contact our experts