Our ranges of Truck mounted forklifts
Discover the unprecedented performance of our TMT and TMM forklifts. The result of Manitou's extensive know-how, these handling machines will be your precious allies for delivering materials to your customers right up to the last meter. Optimize your logistics operations thanks to many advantages in their design! Our truck-mounted forklifts can be easily placed at the rear of your carriers and trailers.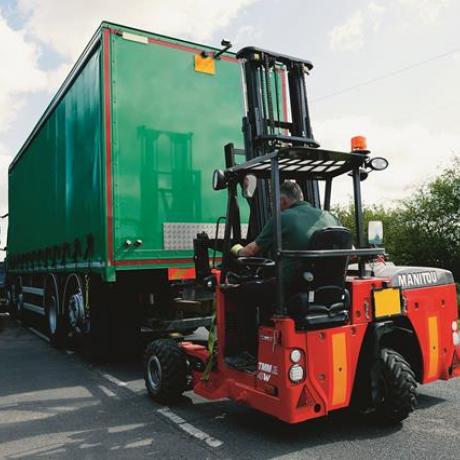 Manitou Truck-mounted Forklifts
Manitou Truck-mounted Forklifts have been designed to provide an additional services for material carriers. Allowing you to work in complete autonomy, they help you serve your customers and deliver materials to the last meter, in the best conditions of safety. In less than a minute, our truck-mounted forklifts are ready to load/unload all types of deliveries. Customize their use thanks to the many modes and options available: version "I" for the industrial sector, version "S" for off-road applications, version "P" for transporting poultry crates and 4W version (4-way, bi-directional) available on the TMM20 and 25 as well as on the TMT 25S, and TMT 55.
Ensure your transport operations with our Manitou forklifts
Manitou offers you two ranges of truck-mounted forklifts for your applications: the TMT range (Truck-Mounted forklifts with Telescopic), offering 5 models equipped with a telescopic boom, the TMM range (Truck-mounted forklifts with Mast) offering 4 truck-mounted forklifts equipped with a mast.
Truck-mounted forklifts fit all truck hitching kits. By tilting the seat forward and folding down the rear driver protection bar, the overhang of the truck is reduced, allowing you to easily store your machine. Our machines have several other advantages:
Easy access to the driver's cab: large non-slip steps, large handles on the left side (front and rear).
Driving comfort - backrest inclination and weight adjustment, load chart on the right side of the seat, on-board computer, switches (parking brake, work lights, hazard warning lights)
Better market visibility (360-degree panoramic view)
High lift height
Optimum safety guaranteed by several systems (Inching pedal, stability indicator, control buttons, seat belts, protective grid on the boom side, 3 braked wheels).
Simplified maintenance and servicing
Take advantage of the performance of our Manitou forklifts to ensure your transport operations!
see all truck-mounted forklifts