Our handling solutions for the Railway Industry
Manitou has been putting its handling expertise to work for the railway industry for several years. The various solutions implemented by our teams simplify the work of professionals on a daily basis and improve their productivity no matter the project.
Handling equipment for all your operations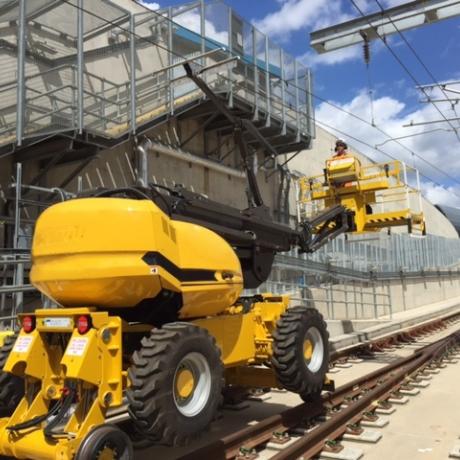 Several Manitou equipment ranges meet the needs of the railway sector. Among our products are; telescopic handlers (MT), rotary telescopic handlers (MRT), all-terrain aerial work platforms (TJ/ATJ), articulated compact loaders (MLA) and forklifts are particularly well suited to the business constraints of railroad manufacturers.
From the construction to the maintenance of railway lines, Manitou offers you a range of solutions capable of supporting you in all your handling operations:
- Preparation and construction
- Storage of materials
- Loading of containers
- Lifting of loads and people
- Work on contact lines
- Maintenance of the network and railways
- Pallet loading/unloading
- Transport of materials, pallets, and heavy or narrow loads
With Manitou telescopic handlers and aerial work platforms, you can carry out your various tasks in optimum safety conditions. The unprecedented performance of our machines allows you to work safely, but also with comfort and precision whatever the conditions of the ground and the constraints of the building site.
Check out our Industry solutions
Versatile machines adapted to your requirements
Manitou handling machines can easily be completed with various accessories. Thanks to their simplicity of installation, you get a tailor-made machine for each application.
Winches, road-rail excavators, buckets, forks, work platforms... our accessories make your equipment versatile, reducing your investment costs and simplifying your logistics. There is no longer a need to invest in several machines to do your work on railways and railway lines.
Manitou machines also have the advantage of being all-terrain. Our machines can travel on all types of surfaces, including uneven terrain, and in all conditions, even the most extreme (dust, humidity, confined space...).
To customize your material handling machines, we offer several options and configuration possibilities. Forklifts, for example, give you the opportunity to choose the motorization, type of tire, height, type of mast and additional accessories.
Using our machines and calling on our expertise for your construction sites, maintenance or servicing of railway lines/tracks gives you several advantages in your daily work:
Work with high-performance, easy-to-handle and versatile machines
Equip robust, hard-wearing handling equipment capable of operating on all types of terrain
Operate in ideal safety conditions
Comply with all regulations in force
Benefit from support services throughout the life of the machines
Tailor-made financing solutions (purchase/leasing)
Benefit from a network of world-wide dealers
Contact our teams to find out more about all our handling solutions for the railway sector.
Contact a Manitou dealer