The Manitou Group
Manitou is the flagship brand of the Manitou group. Its head office is based in France, in Ancenis - Loire Atlantique.
MANITOU GROUP'S PRIORITY: CREATING VALUE
Manitou group is determined to meet the challenges of the times. This is why it continues to develop a large number of innovations capable of improving machine performance, increasing user comfort and reducing the TCO of equipment and its environmental impact. All of this through our three brands: Manitou, Gehl and MustangbyManitou.

With 2020 revenues of €1.6 billion, the Manitou Group currently employs 4,400 people in 140 countries.
More information on the Manitou Group website.
Manitou offer and services
The Manitou brand was born with the invention of the first all-terrain forklift truck. Since this unique creation, the brand has never stopped evolving and innovating to offer a range of products that meet the needs of all sectors of construction, industry and agriculture:
Rough-terrain fixed telehandlers
Rotating telehandlers
Rough-terrain forklifts
Semi-industrial and industrial forklifts
Skid Loaders and Track Loaders
Mobile elevated work platforms
Truck-mounted forklifts
Backhoe loaders
Warehousing equipment
Attachments
Services
contact manitou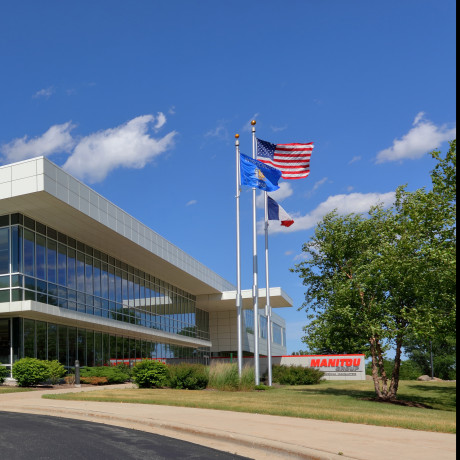 Manitou Group - Northern American markets
Manitou North America is a subsidiary of Manitou Group, located in West Bend, Wisconsin (USA) which supports an extensive dealer network of more than 450 locations that provides Manitou, Gehl and Mustang by Manitou products and services. Our teams are focused on creating valuable solutions for our customers in the the construction, agriculture, rental and industrial markets.
know more