Manitou North America, LLC
Manitou North America is a subsidiary of Manitou Group, located in West Bend, Wisconsin which supports an extensive dealer network of more than 450 locations that provides Manitou, Gehl and Mustang by Manitou products and services. Our teams are focused on creating valuable solutions for our customers in the the construction, agriculture, rental and industrial markets.
Manitou Group in North America
Manitou North America provides handling, lifting and earthmoving solutions for our customers under three iconic brands: Manitou, Mustang by Manitou and GEHL. With an extensive dealer network throughout the USA and Canada, our partners and teams are dedicated to deliver the best in quality, customer service and support by providing the right equipment to our agriculture, construction and industrial customers.
The Manitou brand began its roots in a family tradition of innovation and imaginative power. Since 1957, Manitou has been creating solutions specific to the needs of the customers. Today, Manitou offers one of the widest product ranges in the industry, from a full range of vertical masted forklifts, skid loaders, track loaders, wheel loaders and articulated loaders, to a complete line of mobile elevated work platforms, rotating telescopic handlers, heavy-capacity telescopic handlers, construction telescopic handlers and agriculture multi-purpose loaders.
Mustang by Manitou, founded in 1888 was one of the first to bring the skid steer loaders to market capturing the imaginations of hard-working farmers. Today the brand offers, skid loaders, track loaders and articulated loaders dedicated to the construction, agriculture and rental markets. Designed and manufactured in the USA to provide customers with quality, durable and productive equipment.
Since 1859 in West Bend, WI, the GEHL brand focused on providing solutions to customer's needs by designing quality, reliable products for our agriculture, construction and rental customers. With continuous innovation and evolution of designing quality products, Gehl now offers a full line of telescopic handlers, skid loaders, track loaders, articulated loaders, and wheel loaders to meet the demanding needs of customers all over the world.
The R&D facility for compact equipment is located at our sales and marketing corporate facility in West Bend, Wisconsin. Our top core of engineers are continually researching and testing innovative designs to deliver products with exceptional value for customers and their businesses. Our design engineers focus on listening to the voice of the customer when designing and developing new products to ensure customer satisfaction.
Find a dealer
«
We don't even blink an eye at loading a semi and hauling our Gehl equipment out of state. It's one of the reasons why it is so easy to own Gehl equipment - dependability
»
Steve Schmitz
V.P. Field Operations
Fond du Lac, Wisconsin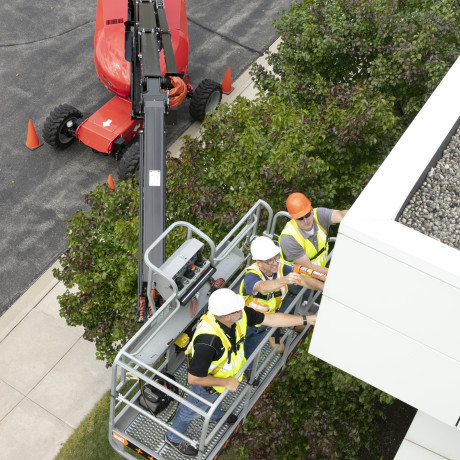 Customer experience is at our core
All of Manitou North America's product lines are available with Manitou's exclusive telematics system, Connected Solutions, which manages the units' location, maintenance cycles and service warnings. The products are also supported with best-in-class customer experience by providing parts, services and a full line of attachments for all products to handle any job.
Contact Us