Our Material Handling Solutions Heavy Logistics for Defense
If you are looking for a high-performance handling machine for the heavy logistics, Manitou, a long-standing partner of the military worldwide, offers you an off-road solution to meet your various needs in wide arrange of operations. Configurable, compact, versatile and air-transportable, our machines facilitate your daily logistic work.
Rough-terrain machines ideal for military logistics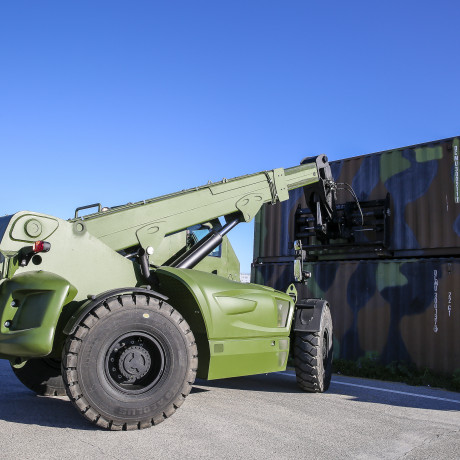 In the field, the military requires state-of-the-art equipment capable of handling loads quickly and ensuring the logistical management of equipment. Manitou's solutions are unmatched on the market and meet the expectations of the Defense sector, providing machines that are perfectly adapted to the problems and constraints of its operators.
Different ranges are particularly efficient for military logistics. In particular, you will find models of thermal or electric masted forklifts (lifting capacity from 1.5 to 5 tons) and telescopic telehanders (lifting capacity from 2.5 to 35 tons).
This equipment has an all-terrain design that allows it to operate in extreme conditions and has an exceptional crossing capacity. Thanks to this performance, you can carry out your logistics operations efficiently on any type of terrain, including rough, uneven and muddy.
Manitou trucks are easy to operate and offer great versatility. In just a few minutes, you can change attachments to find the right solution for every problem - over 100 attachments are compatible, including side shift masts, fork positioners, boom lifts, winches and jib cranes.
Optimize your military logistics operations with Manitou machines. Their performance, reliability and precision of execution make them world-renowned solutions for the military.
Check out our Defense solutions
The advantages of Manitou solutions for heavy logistics
Manitou material handling solutions are the only ones able to meet the defense sector's level of demand for heavy logistics. They offer many advantages for the military around the world:
Machine versatility
Robustness and perfect resistance
High precision of movement
Optimal security for operators
Large height and lifting capacity
Excellent 360 degree visibility from the cab
Manitou also has an international network of dealers (present in more than 140 countries). This enables us to meet all your requirements in the shortest possible time and to guarantee that the machines are kept in operational conditions. Contact our team at any time to take advantage of our services and obtain further information on our logistics solutions for your military infrastructure/equipment. Our experts are at your disposal at any time whatever your geographical location.
Any particular need? Our "special solution" team will study it carefully.
Contact our experts