Our material handling solutions for Siding
Professionals in siding and insulation, our Manitou machines are made for you!
Manitou offers several handling solutions for exterior siding installation. The versatility of the range of our machines are referenced by contractors throughout the world. Whether your working on low-rise buildings or large warehouses; our aerial work platforms, telescopic and rotary telescopic handlers allow you to place your sheets and secure them without having to move the position of your machine.
Machines adapted to the constraints of siding contractors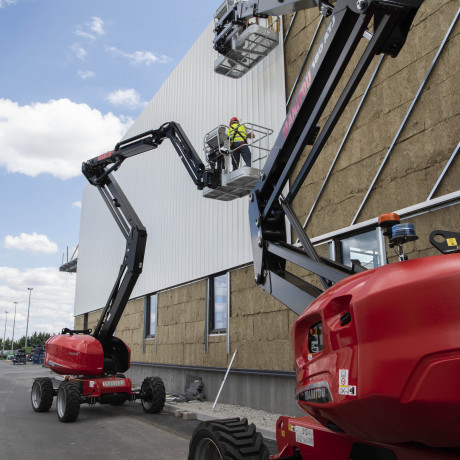 Siding installation requires the use of professional machines capable of lifting heavy loads with precision and safety. Manitou has developed a range of telescopic handlers and aerial work platforms that will be a valuable aid for all your work (installation of siding panels, assembly/disassembly of structures), whatever the conditions of accessibility and the height of the building.
Two ranges of machines are particularly suitable for siding operations.
- The MRT rotary telescopic handlers are particularly versatile and can be used in platform, winch and telescopic mode.
- MT telescopic handlers give you easy access to all the building plans and allow you to easily replace a facing plate, or install new siding, whatever the constraints of the building site even without having to move the machines.
- The articulated aerial work platforms are the ideal tool to carry out your vertical siding operations, allowing you to remain parallel to the wall, making your work easier.
- The scissor lifts will allow you to work safety with a large basket that will offer you comfort in your work.
Check out our Construction solutions
Versatile equipment facilitating all your siding operations
Manitou machines have been designed to ensure great versatility. This adaptability guarantees that installers can work on all types of construction frames (buildings, sheds, bridges) and building sites (urban, suburban, rough terrain, etc.).
Among the accessories compatible with the telescopic handlers you will find different models of platforms with a winch, recovery buckets, pallet forks, jibs, and rotating decks. The versatility of our handling machines allows you to cover all your activities:
- Handling pallets, heavy loads, metal structures, plates (sheet metal, wood...), materials, suspended loads...
- Siding for all types of construction (detached houses, collective buildings, industrial applications...)
- Lifting/moving steel tray, sandwich panels
- Moving loads and big bags
- Assembling / dismantling structural or load-bearing elements, assembling elements on the floor, fixing parts
- Intervening on the roof
- Maintain existing structures (insulation, waterproofing, etc.)
Discover our attachments
Advantages of our handling solutions for siding construction
- Versatile, efficient and safe machines
- Telehandlers and aerial work platforms are easy to handle
- High-performance, reliable and robust equipment
- Solutions capable of responding to every business problem
- Compact models for siding in difficult and cramped areas
- Telescopic handlers capable of working on all types of terrain
- Tailor-made services to support professionals on a daily basis (replacement of original parts, repairs, maintenance, financing solutions, options)...
Contact the Manitou teams to discover in full detail the handling solutions for siding activities. Our professionals can help you choose the product range that is best suited to your activity.
Contact a Manitou dealer