Our range of Aerial jib 1
Manitou offers you a lifting accessory for your rotary telescopic handlers: the Aerial Jib 1. This aerial platform, designed to accommodate 2 operators, ensures perfect safety during your handling work at height. Discover its advantageous characteristics!
Secure your operations with our Aerial Jib 1 elevation solution.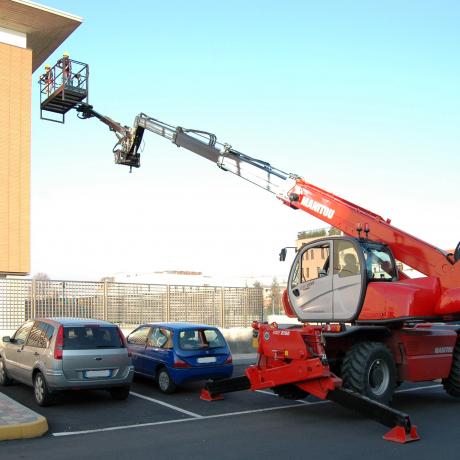 During your construction or maintenance missions, you are required to carry out a lot of work in high areas that are difficult to access. These projects must be carried out with equipment capable of guaranteeing your safety and facilitating your work. The Aerial Jib 1 lifting solution has been designed to meet all these requirements.
The Aerial Jib 1 Manitou has a large basket of high capacity (300 kg). Approved for 2 operators, it allows to work in positive and offers a rotation at 190 degrees. Optimize your handling operations thanks to its innovative performance and technology!
Our lifting solution is compatible with several models of rotary telescopic forklift trucks: MRT Easy, MRT Privilege +, MRT 2470, MRT 3050, MRT 3255. Remember to check the compatibility of your material handling machine before investing in an accessory.
Manitou's equipment is now recognized worldwide for its reliability. Robust and resistant, it guarantees maximum safety for your teams of operators whatever your business constraints: maintenance of industrial equipment, construction, installation of advertising signs and lighting, pruning
Aerial Jib 1: its technical characteristics :
Capacity (users included): 300 kg
Basket rotation 90°/90
Number of legally authorized operators: 2
Positive working area
Working width: 2.5 m
Weight: 930 kg
discover our aerial jib 1
Advantages of our Aerial Jib 1 attachment
The Aerial Jib 1 attachment is indispensable for a large number of construction professionals. Its many qualities make it a lifting solution that can meet their daily requirements:
Maximum safety for operators
Large working area
Comfortable handling
High precision of movement and approach of the platform
Solid and resistant material capable of lasting over time
Solution adapted to all construction and industrial maintenance applications
Easy to install on a rotating telescopic handler
Ease of maintenance
Do you want to complete your equipment and optimize your rotating telescopic handlers? Manitou offers you several other high-performance lifting solutions: Aerial Jib with positive and negative working area, aluminium platform, 3D system pendular basket, basket with removable roof, deep extendable basket, raised basket, basket with winch.
If you have any questions about purchasing an Aerial Jib 1, contact your Manitou dealer. Our professionals are at your disposal to advise you and set up financing solutions adapted to your objectives. Our network of dealers and material handling experts can assist you in more than 120 countries around the world.
Contact your dealer