Our solutions for Aeronautical Maintenance
Are you looking for solutions for aeronautical maintenance? Manitou has several ranges of latest-generation machines capable of responding to your business problems. From the mobile elevating work platform to the rotating telescopic handler, our high-performance machines allow you to approach your aircraft precisely and safely and offer total autonomy to operators, improving their intervention time and productivity on aircraft.
Machines adapted to the specific needs of aeronautical maintenance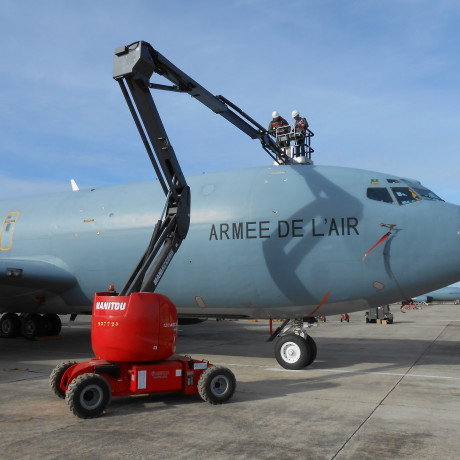 For several years, the aeronautics industry has called upon Manitou's expertise to carry out the various maintenance operations inherent to the sector. A particularly demanding field, it requires highly reliable solutions that guarantee to work in optimal conditions of precision and safety.
Thanks to their unrivalled performance on the material handling market, Manitou machines meet all the needs of technicians specializing in aeronautical servicing and maintenance. The diversity of our ranges adapts to the business constraints of all types of aircraft.
Several models are specially dedicated to the control of aircraft and their devices. You will find high-performance ranges of mobile elevated work platforms (electric and thermal) and rotating telescopic telehanders allowing to operate at various heights in optimal conditions of comfort and safety. All baskets are equipped with a driving aid system (ultrasonic and laser sensors) and foam and rubber protection.
Manitou machines allow you to efficiently perform all tasks related to aircraft maintenance and control: maintenance visits on aircraft, maintenance of technical, mechanical, pneumatic and hydraulic equipment, aircraft return to service, etc.
These operations do not tolerate any errors and are crucial for the safety of aircraft. With Manitou, you are guaranteed to carry out your tasks with great precision and to obtain a high level of user comfort, which is essential if you want to be able to focus on what is essential: aeronautical inspection and maintenance.
Check out our Defense solutions
Why use Manitou equipment to control and maintain your aircraft?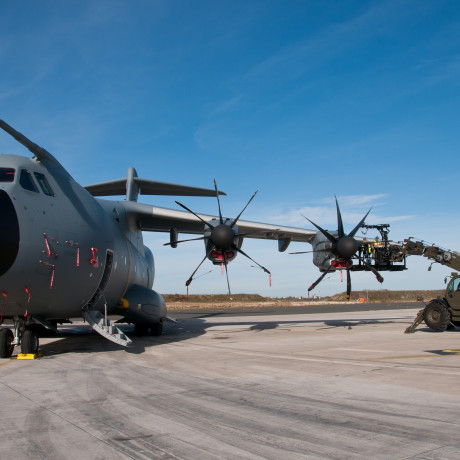 Manitou has extensive experience in the design of material handling machines. Thanks to this unparalleled expertise, our engineers and technicians have developed state-of-the-art and innovative solutions that have been meeting the requirements of aircraft maintenance specialists for many years.
By using our machines, you benefit from several advantages:
High precision of movement
Extreme safety working at height
Comfort and ease of use
Versatility of equipment
Precise movement of equipment and people
Robustness and strength of design
Simplified machine maintenance
Manitou also offers you several services throughout the life of your machines: tailor-made financing solutions, maintenance, repairs, replacement of original parts, after-sales service, extended warranty...Contact our teams at any time to find the handling equipment that is precisely adapted to your aircraft maintenance activity.
A particular need? Our "special solution" team will study it carefully.
Contact our experts