Our range of MT Construction Telescopic Handlers
MT telescopic handlers meet the requirements of construction professionals who need high-performance, safe and perfectly maneuverable handling solutions. All-terrain, these versatile machines adapt to all your loading/unloading, transport/distribution of loads or lifting of people.
Features of MT telescopic forklift trucks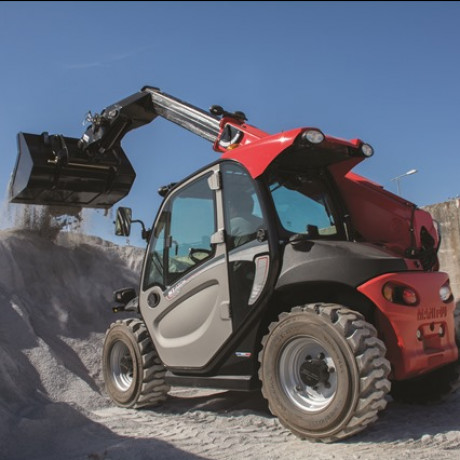 MT construction telehandlers are material handling machines equipped with 4-wheel drive and steering and designed to work in off-road conditions. Thanks to their high-performance load charts, they offer you a working envelope adapted to your various construction sites - masonry, structure, framework, cladding, roofing, renovation, tunneling, etc. - and to the various types of work to be carried out.
By using an MT telescopic handler, you can load/unload, transport, distribute and/or handle all types of loads with precision and comfort. Allowing you to operate quickly and efficiently, your machine improves your productivity and provides you with a perfect safety of execution.
All the models in the range have a similar design and features that make your daily work easier:
Great versatility thanks to the possibility of changing accessories in a few minutes - more than 100 references, including recovery buckets, jib cranes, floating fork aprons, fork spreaders, big-bag handlers, sweepers...
Perfect maneuverability and 3 steering modes: 2 or 4 wheel steering, crab mode
All-terrain design allowing operation on all types of sites, including on rough or cramped terrain;
Impact-resistant cabs with 360-degree visibility
Easy handling thanks to a clear and modular dashboard, intuitive controls and a joystick that provides flexibility and precision of movement.
Optimum safety thanks to high-performance stabilizers, several braking systems and a particularly robust design
High ease of maintenance
Check out the MT models
Telescopic forklifts to meet all your requirements
The MT range is now available in several high-performance models. Their different characteristics allow us to offer specific handling solutions for each sector of the construction industry.
With the MT range, you have trucks from 2 to 4 tons with lifting heights ranging from 4 to 18 metres depending on the model.
MT 420 new-buggy ultra-compact, MT 625. The compact MT range is ideal for construction, urban renovation and work on the most cramped building sites, the medium height MT combining compactness, performance and simplicity, the MT with high lifting heights... choose a model capable of responding to your needs in the best possible way.
Manitou teams can help you at any time to find a handling solution adapted to your specific constraints and needs.
Contact our teams and discover all the support services offered by Manitou to construction professionals: maintenance, repair, parts replacement, tailor-made financing solutions, dealer network throughout the world...
Contact a Manitou dealer