Our handling solutions for Infrastructure Maintenance
Are you specialized in infrastructure and network maintenance work? Manitou puts its handling expertise at your service through a wide range of high-performance solutions (machines, accessories, services...). Take advantage of our products to carry out all of your maintenance operations efficiently.
Machines adapted to the constraints of the maintenance business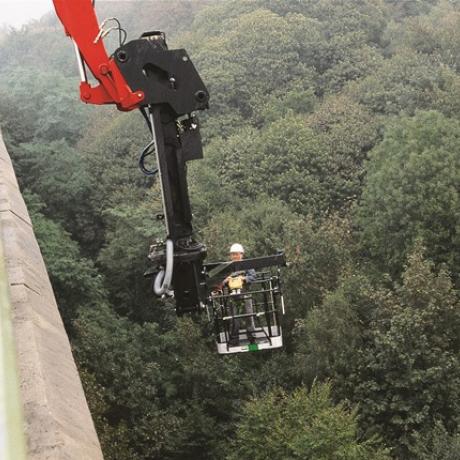 Our handling solutions meet the requirements of all your infrastructure maintenance work. Among our various ranges, telescopic handlers (MT), rotating telescopic handlers (MRT), aerial work platforms (TJ/ATJ), skid-steer loaders (R/V), and industrial masted forklifts (MI) are particularly well suited to the business constraints of infrastructure.
Thanks to the diversity of our ranges and the versatility of Manitou machines, you will find a solution for each of your projects:
- Maintenance of infrastructures and networks of all types (bridges and engineering structures, buildings, road networks, port equipment, expressways, ski slopes and ski lifts, etc.)
- Maintenance and renovation of infrastructures and engineering structures.
Whether you need to load/unload pallets, transport pallets, lift people, move and handle heavy loads or suspended loads, our machines ensure that you operate in optimal safety conditions, no matter the ground conditions and the business constraints related to the project.
To guarantee reliable, high-performance and safe equipment, we regularly carry out an extensive series of tests and trials in real conditions.
Check out our Industry solutions
Tailor-made handling solutions
Because your job involves several service and maintenance operations, we offer versatile machines capable of supporting you on a daily basis in your various tasks. To ensure their versatility, Manitou has designed handling accessories that are easily interchangeable.
Pallet forks, winches, jibs, attached elevating platforms are just some of the attachments compatible with your telescopic handlers to reduce your investment costs and reduce the number of pieces of equipment present on your worksites.
With Manitou, you can also get off-road solutions: several of our forklifts and telescopic handlers are able to operate on all types of terrain, no matter the conditions.
Different options and configuration possibilities give you the opportunity to customize your handling equipment for maintenance and servicing of your infrastructure. Forklifts, for example, allow you to choose the engine, tire type, height and type of masts you need to meet your requirements.
The advantages of our handling solutions for infrastructure/network maintenance:
- You invest in versatile and custom-made machines
- You carry out your work with high-performance handling equipment at the cutting edge of innovation and technology
- You obtain robust, resistant and reliable machines and accessories
- You ensure optimal conditions of safety on the building site
- You benefit from several support services, including an operational spare parts replacement system
- You benefit from a worldwide network of distributors
Our teams are at your disposal to advise you and help you find handling solutions adapted to infrastructure maintenance.
Contact a Manitou dealer