Our material handling solutions for Airports
Manitou handling solutions are perfectly adapted to the business constraints for airports. Our versatile equipment meets all the requirements of these infrastructures in terms of maintenance, upkeep and safety.
Professional equipment adapted to your business constraints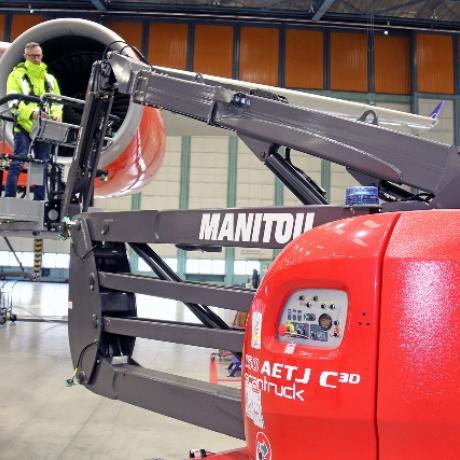 Airports are infrastructures with a complex mode of operation. The personnel in charge of airport maintenance and the maintenance of the aircraft are daily subjected to problems of time and availability, and in sometimes in the most extreme weather conditions.
Manitou equipment has all the features to meet the specific needs of airports: easy to drive and handle, perfect 360-degree visibility, optimal loading/unloading capacity, safety when working at height, etc.
Among our various ranges of machines, the rotary telescopic handlers (MRT) and aerial work platforms (AETJ, ATJ, TJ) are the most suitable for handling work in an aerial environment. The aerial work platforms offer, in particular, ergonomic heavy load baskets and three access points that facilitate your work at height.
All your handling operations can be carried out efficiently with Manitou equipment:
Aircraft inspection
Lifting of loads and people
Air maintenance
Handling inside and outside
Terminal maintenance
Installation of stands
Changing lighting
Clearing of runways or taxiways
Aircraft towing
Transport of material...
The performances of our handling trucks are ideal to ensure the maintenance of your airports whatever your business constraints.
Check out our Industry solutions
Tailor-made handling machines
To enable you to obtain tailor-made solutions, Manitou has designed a wide range of attachments compatible with handling machines for airport structures.
Adapt your equipment with a work platform, winch, jib, fork carriage and more to easily carry out all your operations without having to invest in several pieces of equipment. Manitou also offers various options and configuration possibilities. You thus have a privileged means to work precisely, adapting your equipment to meet your business requirements and objectives.
Thanks to many advantages, Manitou machines are now used by many airport services around the world. The trust of professionals has made our company one of the main leaders in the international handling equipment market.
Check out all our attachments
The advantages of our handling solutions for airports:
- High-performance, resistant, easy to handle and comfortable equipment (perfect 360-degree vision, in particular)
- Machines capable of ensuring optimal safety conditions for each operation
- Equipment specially adapted to the problems of airports (including working at heights)
- Telehandlers and platforms at the cutting edge of technology and innovation
- Global support solutions (replacement of parts, repairs, maintenance, tailor-made financing)...
Do you want to choose the handling solutions best suited to the operation of your airport? Our teams are at your disposal at any time.
Contact a Manitou dealer