Our material handling solutions Construction & Maintenance for Defense
Manitou has been the preferred partner for the military around the world for several decades. This perfect knowledge of military needs enables us to provide defense and security players with handling solutions especially designed for the construction and maintenance of bases, barracks, infrastructures and equipment. Thanks to our dealer network present in all parts of the world, we have a service provider for your equipment needs.
Rough-terrain machines ideal for the construction / maintenance of military infrastructures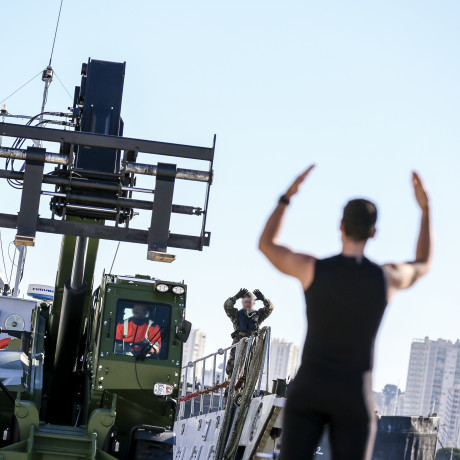 The Defense sector is regularly tasked with building military bases, land and infrastructure, and then maintaining and operating these locations. These construction and maintenance activities are often carried out in particularly demanding conditions (rough terrain and difficult access, proximity, inclement weather) which require the ability to operate quickly. Manitou machines meet all of these requirements and provide dealerships around the world with solutions perfectly adapted to their problems.
Telescopic construction trucks, aerial work platforms, forklifts, skid steer loaders and rotary telescopic handlers are the most widely used Manitou ranges for construction and maintenance in the defense sector. Thanks to their all-terrain design and 4-wheel steering, they can easily operate on a variety of different types of ground, including rough, uneven or muddy terrain. Their different functionalities make them ideal machines to carry out all your operations efficiently:
- Maintenance of the equipment and maintenance of the material
- Placement of heavy and bulky loads
- Construction and maintenance of infrastructure, buildings, and barracks
- Loading/unloading, storage of parts
- Organization of rapid rotations...
To facilitate the work for all, our machines are multifunctional. In just a few minutes, you can change their accessories and obtain a solution precisely adapted to each operation. An ideal way to perform several tasks without having to change machines!
Check out our Defense solutions
The benefits of Manitou's solutions for the Defense sector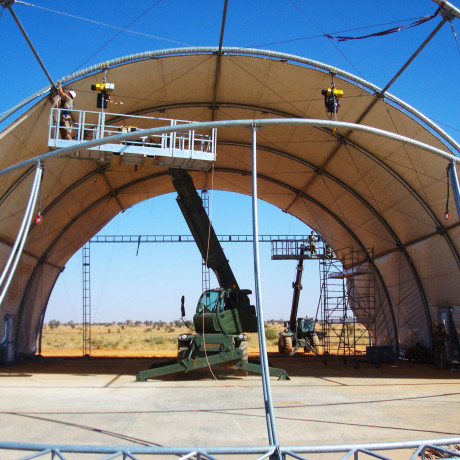 Thanks to their unique characteristics in the material handling market, Manitou solutions are the only ones able to meet the high demands of the Defense sector. Their many advantages are now attracting the military all over the world:
High versatility of use
Robustness, resistance and optimal adaptability to operations in difficult geographical areas and specific application frameworks
High precision of movement
Perfect operator safety
Large height and lifting capacity
Optimal 360 degree visibility from the driver's cab
Thanks to its international network of dealers in more than 140 countries, Manitou is also able to meet all your requirements in the shortest possible time. This local service guarantees optimal maintenance of the machines in operational conditions. Contact our teams at any time to take advantage of our services and obtain additional information on our solutions dedicated to the construction and maintenance of infrastructures and military equipment.
Any particular need? Our "special solution" team will study it carefully.
Contact our experts