Our material handling solutions for the Event Industry
The organization of events involves numerous handling operations to be carried out in often very short lead times. Manitou meets the requirements and constraints in event preparation through several ranges of high-performance and versatile machines. Find solutions for every problem, whether you need to set up stages, move vehicles, install sound systems or work at heights!
Machines specially adapted to the constraints of the event industry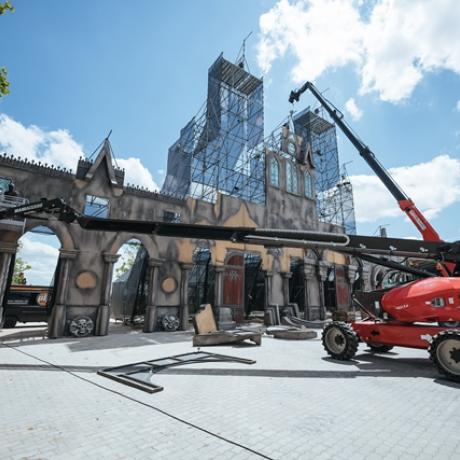 Every day, event managers have to operate in conditions of time and intervention which can sometimes be very complex : very short installation time, narrow work area, difficult access space (especially at heights).
Manitou has designed machines capable of meeting the specific needs of event managers. Among our different equipment ranges we offer; telescopic and rotary telescopic handlers, masted-forklifts, truck-mounted forklifts and industrial/off-road aerial work platforms to carry out event operations in complete safety:
- Transport of the material constituting the stage or the stands
- Installation of public address systems
- Displacement of obstructing or stuck vehicles
- Unloading of trucks
- Placing material on the stand
- Loading equipment...
Whatever your equipment need, Manitou provides you with high-performance solutions that make your daily work easier and more comfortable. Compatible with several attachments, our machines also have the advantage of being versatile. Simply change accessories to get a new function!
Manitou machinery and equipment are the delight of event professionals thanks to their state-of-the-art technical features. Use them to handle your loads and carry out your tasks with precision and safety! Their performance is ideal to improve your productivity and save time in your operations.
Check out our Industry solutions
The advantages of Manitou's solutions for event managers
Telescopic handlers, forklift trucks, aerial work platforms, truck-mounted forklifts or warehouse equipment... Manitou material handling equipment is world-renowned for its reliability, sturdiness and performance. These qualities make it a reference solution for all professionals, including the main material handlers in the events sector, who can count on numerous advantages:
Accuracy of movement and approach
Rugged and durable design capable of lasting over time
Equipment offering perfect safety to operators, especially in operations at height
Perfect maneuverability, even in confined areas, confined and restricted workspaces
Driving comfort and ease of use
High versatility ensured by the possibility of changing accessories in a few minutes
Easy machine maintenance
Excellent all-round visibility from the driver's cab
The Manitou teams remain at your disposal to help you choose handling equipment adapted to the requirements of your events.
Contact us at any time and take advantage of the expertise of our dealers all over the world.
Contact a Manitou dealer