Our material handling solutions for the Food and Beverage Industry
Manitou offers handling solutions specially adapted to the quality and hygiene standards of the food industry. Thanks to their performance; to handle, lift, and transport your food loads of all types, whatever their weight, in complete safety. For each of your needs, there is an answer!
Equipment adapted to the standards of the agri-food sector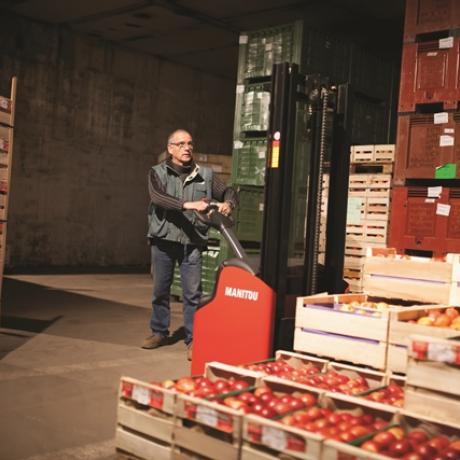 Manitou equipment has been designed to meet the constraints of the food industry, particularly in terms of health and hygiene regulations. Made for high-performance, our machines adapt to the processes, rates and specific loads of the sector by offering a solution to each application.
With Manitou machines, food processing professionals can lift, handle and transport heavy loads accurately and efficiently. Bins, boxes, bags... our tools allow you to move, load and discharge your packaged or bulk food in optimal conditions of comfort and safety.
Several Manitou product ranges are used by the most demanding companies in the sector: pallet trucks, stackers, forklifts, truck-mounted forklifts... Thanks to various compatible attachments, our machines offer great versatility of use, allowing you to carry out different operations with a single machine. All you have to do is change accessories in a few minutes!
Our handling solutions considerably increase your productivity while eliminating some of the drudgery of lifting and loading tasks. Thanks to their coatings or specific options (tailor-made), they comply with the hygiene standards governing your activity.
Take advantage of Manitou equipment to quickly carry out all your lifting, transport, loading and unloading operations for all types of food: cans, bags, cartons, glasses, drums, tanks, bulk food...
check out our industry solutions
Tailor-made solutions for all your applications
Manitou has unparalleled experience in designing material handling solutions for professionals. Armed with this expertise, our teams design equipment at the cutting edge of technology and innovation. The performance our machines offers many advantages:
Robust and ergonomic design
Ease and comfort of use
Optimal safety for operators
High maneuverability, even in congested, cramped or difficult to access working areas
Multi-function capability in one unit
Wide choice of accessories, options and configuration levels
Easy to manage equipment maintenance (easy access to main components)
Precision of movement
Spacious driver's cab
360-degree visibility from the driver's seat
With Manitou, you can benefit at any time from several services capable of optimizing the use of your various equipment: tailor-made financing solutions, maintenance, repairs, replacement of original parts, after-sales service, extended warranty... To meet your needs as quickly as possible, we have a vast network of dealers. Our professionals can assist you in your different steps. Contact our teams to succeed in choosing the most suitable equipment for the food industry!
contact a manitou dealer