Our material handling solutions for Mixed Farming
Are you a farmer looking for handling equipment adapted to mixed farming? Market leader, Manitou offers a wide range of agricultural telescopic handlers and articulated loaders, to provide versatile tools that allow you to carry out all your farming activities efficiently. Take advantage of their performance to save time in your work and improve the versatility and profitability of your farm.
Our handling solutions for mixed farming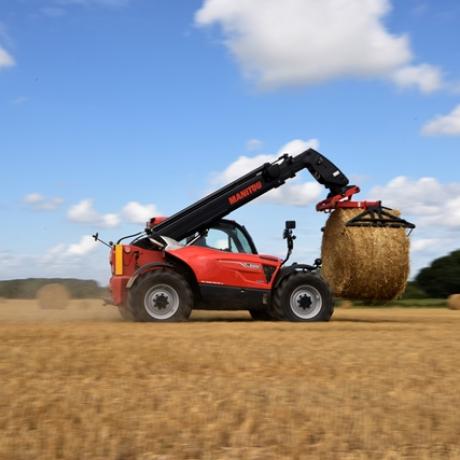 Cultivating several plant species and managing a livestock operation on your farm involves carrying out several daily tasks. In order to operate in the best conditions, you, as farmers specializing in mixed farming, require versatile handling equipment capable of helping you in all your farming activities.
The ranges of agricultural telescopic handlers (MLT) and articulated loaders (MLA) have been designed to meet these requirements. All-terrain, they can operate on all types of ground and offer several functionalities:
Loading / unloading of bulk
Silage cutting
Livestock Feed
Feeding
Grain Handling
Drainage / mulching
Cleaning
Bullet handling ...
To ensure the versatility of telescopic handlers and loaders, Manitou offers a wide variety of accessories compatible with machines: tilting fork carriage, floating fork carriage, agricultural bucket, grapple bucket, manure fork, clamp, slicer, etc. Interchangeable in a few minutes, these accessories allow you to obtain a tailor-made solution for each task without having to invest in several machines. An ideal way to reduce your investment costs and gain in productivity!
Check out our Agriculture solutions
Agricultural machinery with unrivalled performance
Manitou telescopic handlers and articulated loaders are available in several models offering different capacities and lifting heights: MLT, MLT NewAg, MLT Silent Force, MLT ultra-compact, MLA-MLA-T. You can then choose your own options and configuration level to customize your material handling machines and obtain a solution perfectly adapted to mixed farming.
The advantages of Manitou handling solutions for farmers:
Great ease of use and optimal comfort in the cab (including 360 degree visual perception)
Off-road maneuverability: you can work efficiently in all soil conditions
Rugged design capable of lasting over time
Versatility guaranteed by the possibility of changing accessories at any time
Intelligent and simplified maintenance
Varied application and adapted transmission
Optimum safety guaranteed
Adaptation to the environment in which it is used
Learn more about our articulated loaders
Do you need to purchase handling equipment to support projects for Mixed Farming? The Manitou teams will advise you and offer you several services to facilitate your steps and optimize the use of your machines. Call on our expertise now and obtain handling solutions perfectly adapted to your business requirements.
Contact a Manitou dealer