Our material handling solutions for Renovation
Experts in the restoration of monuments or specialists in the renovation of residential houses, our equipment allows you to access different heights to reach exterior parts such as walls and roof.
For more than 50 years, Manitou handling solutions have been helping specialists in the renovation of houses and monuments. Our machines and equipment are adapted to the different activities of restoration/rehabilitation and meet the specific needs of the sector.
High-performance machines for renovation experts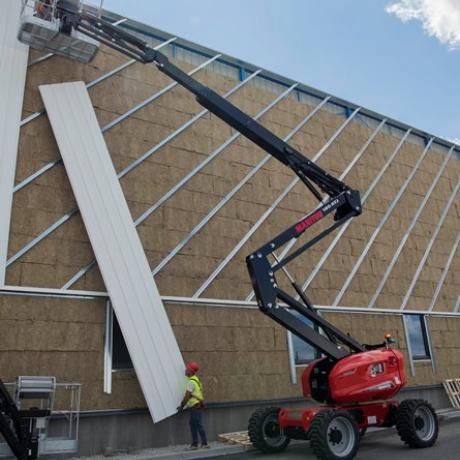 Our ranges are available in several models of industrial equipment.
As rehabilitation specialists, you will be interested in Manitou rotary telescopic handlers (MRT range) and aerial work platforms (AJT range).. These ranges are ideal for cleaning up facade, completely restoring an old building, or working efficiently at heights (especially the MRT range with its work platform that can reach up to 41 metres).
Manitou machines give you access to all the external parts of the building (roof, walls), even on a high monument such as a castle; equipped with the perfect offset and rotation capacities, their lifting baskets make your intervention easier and allow you not to move the machine during operations. Very compact, our machines are also precious allies in the realization of your interior renovation works.
Renovation experts use our handling equipment for all their operations: lifting on site, loading, pallet and material transport, roofing, improving the aesthetics, resistance and energy performance of the building, demolition and design of new spaces, replacement of old materials...
In addition, the off-road design of our machines make them effective solutions on all types of worksites, including confined sites and rough terrain. Our solutions are well adapted to the various constraints experienced in your renovation activities.
Check out our Construction solutions
Our accessories and support services for professionals
To make our machines even more versatile, we offer a number of dedicated accessories such as forks, jibs, hooks, platforms and buckets. Easily interchangeable, they allow you to reduce your investment costs while providing the right solution for every problem - several options can further customize your telescopic handlers.
Leader in the handling equipment market, Manitou accompanies you throughout the life of your machines: we have a range of services designed to optimize the use of equipment on a daily basis.
Masons specializing in the renovation of old buildings can benefit from an operational service for maintenance and replacement of original parts, financing solutions (for hire or sale) or advice on acquiring the machine best suited to their work.
The advantages of Manitou machines for renovation:
- Telescopic handlers adapted to the job requirements
- Efficient, reliable and safe machines
- Versatile handling equipment
- Interchangeable accessories
- Equipment for outdoor and indoor work
- Options available to maximize performance
Contact a Manitou dealer