Our range of ME Forklift Trucks
Get a material handling solution adapted to the current requirements of industrial markets with the ME range of electric forklift trucks. Simple to use, these machines facilitate all your daily operations, whatever your activity. Take advantage of their qualities to increase your productivity and ensure optimal transport and storage conditions.
Electric trucks for all your industrial applications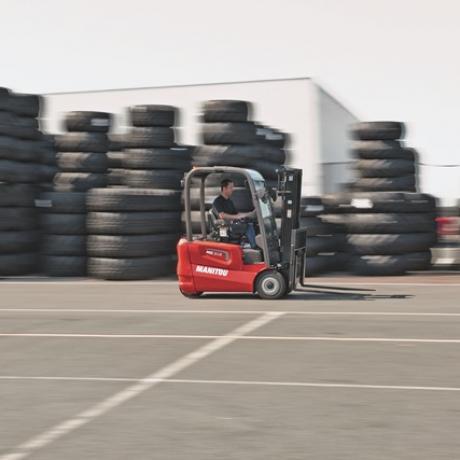 The ME range offers 14 models of electric forklift trucks. With 3 or 4 wheels, these machines are particularly efficient. By using them, you improve your productivity and achieve excellent performance.
ME electric trucks are equipped with a mast for easy loading/unloading of stock. Three types of masts are available for a maximum height of 6.50 metres. Durable and easy to drive, they help you to carry out all your handling operations, even in hard-to-reach and confined spaces: loading/unloading a truck, stockpiling, feeding the production line...
Thanks to careful design, ME forklift trucks are reliable and efficient in all circumstances. The diversity of the ME range enables us to meet the requirements of all industrial sectors. You can choose between 1.5 and 5 tonnes capacity depending on the model and different lift heights (from 2.7 to 6.5 metres). Select the options of your choice to customize your trucks and obtain a handling solution perfectly adapted to your activities whatever the type of load and the frequency of work.
Discover our range of ME forklift trucks
The advantages of ME electric forklift trucks for professionals
ME forklift trucks are an asset for logistics and professionals requiring equipment capable of handling loads efficiently: logistics platforms, distribution centres, small shops and warehouses, administrations, hospitals, stores, food processing, various industries, material manufacturing, paper mills.
Advantageous features of ME industrial trucks :
Easy access to the cabin thanks to several systems (handle fixed on the front left pillar of the driver's guard, non-slip steps on both sides, large floor space).
Ease of use and maintenance
High working comfort thanks to an ergonomic operator's platform
Guaranteed security
High versatility thanks to the accessories and options available.
Perfect robustness and great resistance
Manitou offers a range of support services to help you benefit from a truck that is operational all year round (warranty, maintenance, spare parts, tailor-made financing solutions). Call on our expertise to choose the model of electric forklift truck capable of responding to all your business issues. Our teams are at your disposal at any time.
Contact Us