Our material handling solutions for Material Recovery
Every day Manitou machines transports and handles large volumes of waste on industrial and off-roads with space constraints and in dusty or dangerous environments. Your raw materials with densities from 18 to 113 lb/ft3, in bulk or packaged, are varied. Your sustained production rates require you to secure your handling operations with optimum comfort for your operators and total control of your working environment.
Manitou offers several handling solutions to companies specializing in materials recovery. Robust, comfortable and with an intuitive handling, these top-of-the-range machines facilitate all waste recovery, transformation and recycling operations. Their exceptional performance makes them indispensable equipment for professionals in the sector.
High-performance equipment for waste treatment and recycling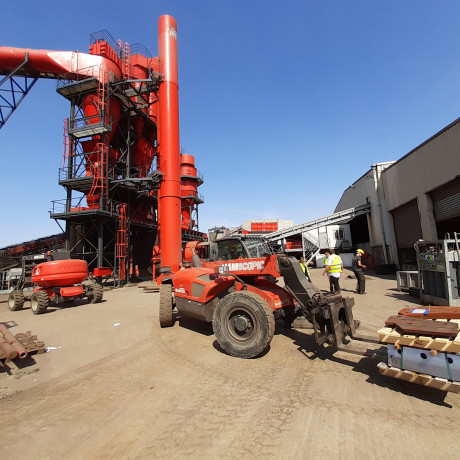 Material and organic recycling, manufactured of recovered solid fuels, Waste Electrical and Electronic equipment, collection of used tires or wood scrap, asbestos removal, treatment of final waste are all different settings which require many handling operations that are often difficult to manage.
Waste processing specialists can carry out their various tasks efficiently and safely with Manitou machines. Offering different heights and load capacities, these handling machines help you transport, handle, load and unload your raw materials on industrial or off-road surfaces, regardless of space, temperature and time constraints.
To meet all your needs, we offer several ranges of machines: all-terrain forklift trucks, rotary trucks, small and large capacity telescopic handlers (from 2.78 to 36.38 tons), skid steer loaders, aerial work platforms, stackers, and pallet trucks. Opt for the machine best suited to your activity!
All Manitou machines are multifunctional. Thanks to our hundred or so interchangeable attachments (buckets, bale clamps, grapples, forks), you can change the function of the equipment in a few minutes without having to stop the engine. An ideal feature to save time and obtain excellent performance.
Manitou machines also have the advantage of being ergonomic. Their performance allows you to improve your productivity and ensure optimal operating conditions for operators in terms of safety, comfort and precision of movement.
Check out our Environment solutions
The advantages of Manitou machines for material recovery
Manitou is the preferred partner of companies and communities specializing in the treatment of bulk or packaged waste. Thanks to our perfect knowledge of business constraints, we offer solutions that precisely meet their requirements. Today, our machines are reference tools for all those involved in material recovery.
By opting for a Manitou machine, you gain in performance:
Ease of use. Thanks to intuitive controls and an ergonomic driver's cab
High precision and speed of movement
Optimal 360 degree outdoor visibility
Perfect safety for operators
Versatility of the machines ensured by several easily interchangeable accessories
Off-road maneuverability
Robustness and strength of design
Easy maintenance
You wish to buy or rent Manitou handling equipment for your material recovery operations? Our extensive network allows you to benefit from our services in more than 120 countries. Discover all our services online and call on our expertise at any time! Our teams are at your disposal to advise you on the machines best suited to your needs.
Do you have a particular need? Our "special solution" team will study it carefully and suggest the best fit for you and your application.
Contact our experts