Our material handling solutions for Printing and Paper Mills
Manitou has been working with printers and paper mills for several years. Thanks to our knowledge of their business issues, we can offer handling solutions totally adapted to the printing and paper industry. Take advantage of the performance of our machines to improve your productivity!
Pallet trucks, stackers and trolleys adapted to all your applications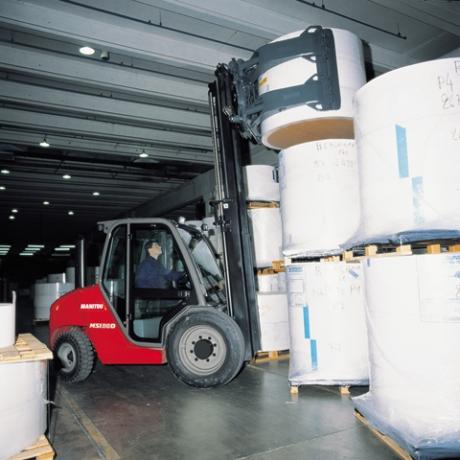 As a printer or paper manufacturer, you are regularly confronted with handling operations of paper in rolls, reams or pulp. To facilitate your work and optimize your various tasks, we have several high-performance handling solutions.
Our ranges of manual (EH) and electric (EP) pallet trucks, manual stackers (KLEOS) and electric stackers (ES, STACKY) or forklifts (ME, MSI, ME, ER, EMA II) precisely meet the requirements of the printing/paper industry. Take them easily in hand to carry out your various operations :
Handling of paper and ink in different packaging
Handling of journals, newspapers, magazines, press productions
Packet reception
Palletization of packages
Optimization of your storage areas
Improvement of the ergonomics of your workstations (pallet trucks and stackers)
The diversity of our equipment enables you to handle all types of loads, including bulky loads. To make your maneuvers easier, our machines have the advantage of being compact, so you can move smoothly in the most confined spaces and cramped work areas.
Our warehousing equipment and forklift trucks guarantee to help you move your stocks and manage your loads in optimal conditions of comfort and safety. Take advantage of their performance to save time in your preparations and improve the productivity of your printing / paper mill.
Check out our Industry solutions
The advantages of Manitou machines for printers/papermills
Manitou warehouse equipment and industrial forklifts are recommended for all sectors that require reliable, high-performance, safe handling solutions capable of adapting to the various business constraints. Printers and paper manufacturers who use them benefit from their many advantages:
High maneuverability, even in confined and cramped spaces
Rugged and durable design capable of lasting over time
Ease and comfort of use
Different load capacities and lifting heights available
Enhanced safety for operators
High-end configuration level
Possibility to customize the machines
Manitou machines also provide you with several support services throughout their lifespan: tailor-made financing solutions, maintenance, repairs, replacement of original parts, after-sales service, extended warranty... To provide answers to your problems as quickly as possible, our dealer network is present throughout France and around the world. Call on our experts to optimize the use of your machines. Our teams are at your disposal at any time to help you select the handling solution best suited to your activity.
Contact a Manitou dealer