Our material handling solutions for Warehousing
Are you a warehousing expert looking for high-performance handling solutions for your storage operations? Manitou offers you a wide range of machines and accessories specially adapted to your business requirements.
Handling equipment adapted for warehousing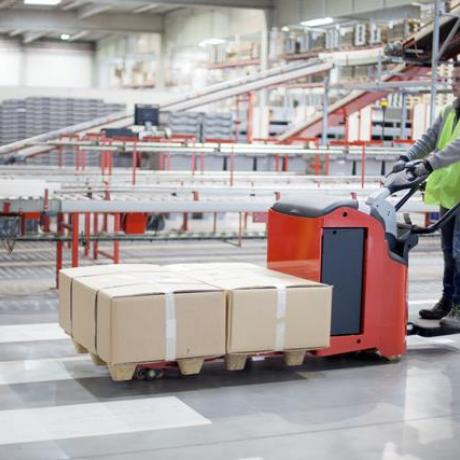 As a warehouse worker, you are required to perform different storage operations every day. The diversity of our product ranges enables you to carry out all your tasks efficiently:

- Loading / unloading of pallets
- Preparation of orders
- Transport and storage of pallets
- Handling of pallets and palletized loads
- Warehousing
- Storage on racks
- Grouping of orders
Designed to meet the requirements of the profession, our handling equipment enables you to store your equipment whatever your constraints: narrow aisles, confined spaces, high ceilings, etc...
Manitou solutions make your work easier and optimize your operations in optimal safety conditions. Easy to handle, they are now a reference for all warehouse workers, whatever the storage capacity of the warehouses.
Professional equipment with unrivaled performance
Manitou has been designing and distributing handling equipment throughout the world for more than 60 years. This extensive experience enables us to offer warehousing professionals high-performance machines with features often unseen on the market.
The performance of our trucks, stackers and pallet trucks guarantees you to carry out your operations in ideal conditions of use, comfort and safety.
Our machines are versatile, completed by several easily interchangeable accessories: forks, platforms, drum clamps... With these accessories, you get a tailor-made solution for each business task encountered on your logistics platforms.
Our handling equipment meets all your needs. Take advantage of our large dealer network with personalized support throughout the life of the machines.
Check out all our attachments
The advantages of our warehousing solutions:
- High-performance, versatile and reliable machines adapted to all the constraints of the industry
- Equipment that is easy to handle
- Easily interchangeable accessories bringing a great versatility to the machines
- Equipment that complies with current regulations
- Ideal performances to improve its productivity
- Tailor-made handling solutions
- Personalized support services (financing, replacement of spare parts, optimization options)
Our handling experts in the warehousing and storage field are at your disposal at any time to advise you on the choice of equipment best suited to you.
Contact a Manitou dealer