Our ranges of Winches
A hydraulic winch transforms a telescopic handler (fixed or rotating) into a real mobile crane. Your telescopic handler gains in productivity and efficiency.
Hydraulic winches are recommended for all handling of suspended loads, particularly those requiring vertical movement of the load (setting up frames etc.).
«
The Variowinch 7.2t has brought us a real productivity gain: we have saved working time on every job site!
»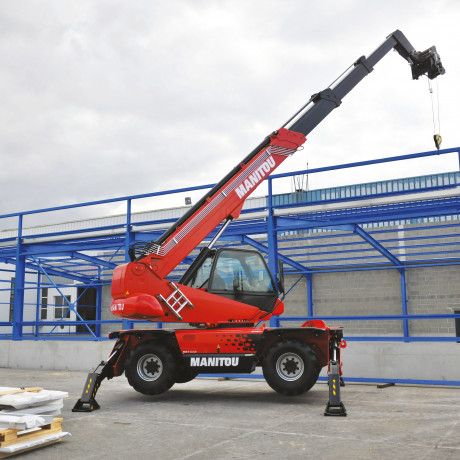 Innovative and patented, the new hydraulic winch VARIOWINCH.
The innovative and patented variowinch hydraulic winch is a real novelty in hydraulic winches for rotating telescopic handler: the maximum speed of the hook is adapted to the suspended load and to the instructions given by the operator. Movements of light loads are carried out faster (up to 60m/min), while maintaining a high maximum capacity (7.2t). Thanks to its 100% hydraulic regulation, the variowinch combines speed, capacity and precision.
discover this accessory
Suspended loads are found in almost all material handling applications. The use of adapted and validated accessories, specifically designed for this use, allows a real gain in safety.
Too many users are still content to use their machine's forks or carriage to lift suspended loads. This puts their own safety and that of the people working around them at risk. It is high time to stop this!
Choosing a Manitou winch is about choice, safety and performance!