Our range of MHT Construction Telescopic Handlers
The MHT range has been specially designed for handling heavy and bulky loads. Dedicated to the loading/unloading, transport/distribution of large tonnages, these all-terrain telescopic forklift trucks help you to work quickly and efficiently whatever the ground conditions.
Telescopic forklift trucks for handling heavy loads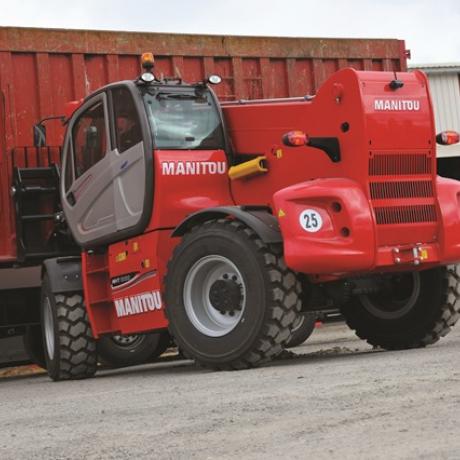 MHT telescopic forklift trucks are designed for handling heavy and bulky loads (stone blocks, containers, prefabricated products, etc.). With their high lifting capacity, they allow you to efficiently handle material weighing up to 40 tons in optimal safety conditions.
The off-road design of the MHT models and their perfect robustness make them handling solutions capable of operating on all types of terrain, including the most rugged. Even on muddy or sandy ground, you can load, unload, transport and/or distribute your loads with precision and ease. The machines in the range also have particularly powerful engines that ensure perfect execution of movement.
The MHT telescopic handlers are distinguished by a number of top features and performances :
High lifting capacity (from 9 to 40 tons) ;
3 possible steering modes (2 or 4 wheel drive and steering, crab mode);
off-road use whatever the constraints;
High lifting height (from 7 to 14 meters depending on the model);
high power;
ease of use;
Driving comfort: 360 degree visibility from the cab, intuitive controls, ergonomic work area ;
compactness;
optimal safety of use...
Dedicated to large tonnage, MHT machines are particularly used by the extractive industries (mining/refinery/oil) and the public works sector. Several other sectors of activity (including agriculture) use their performance for their handling work.
checkout our mht models
Tailor-made, versatile handling solutions
Like all Manitou ranges, MHT telescopic handlers have the advantage of being versatile. Compatible with a large number of attachments (fork decks, recovery buckets, jibs, big bag handlers), they meet all your handling needs without the need to invest in additional equipment. Thanks to this versatility, you get a high-performance machine adapted to all your handling operations (lifting, loading, unloading, transport, distribution, elevation...).
Various options also give you the opportunity to customize your telescopic handler. The Machine connected solution (Easy Manager), in particular, is ideal for optimizing your TCO (Total Cost of Ownership): control of maintenance costs, preservation of the longevity of the equipment, saving time and fuel, visualization of operating information in real time, securing your fleet of machines...
Manitou also offers you several support services to make your daily work easier (repairs, replacement of original parts, tailor-made financing solutions, dealer present throughout France). Call on the expertise of our teams to succeed in choosing MHT telescopic forklift trucks corresponding to your business issues.
contact a manitou dealer