Our range of MRT Vision Rotary Telescopic Handlers
Manitou reintroduces its MRT (Manitou Rotary Telescopic) range with the new MRT Vision rotating telehandlers, taking another step towards excellence in the rotary market. These telehandlers have many advantages and innovations, covering all handling needs.
The strengths of the MRT Vision rotating telescopic handlers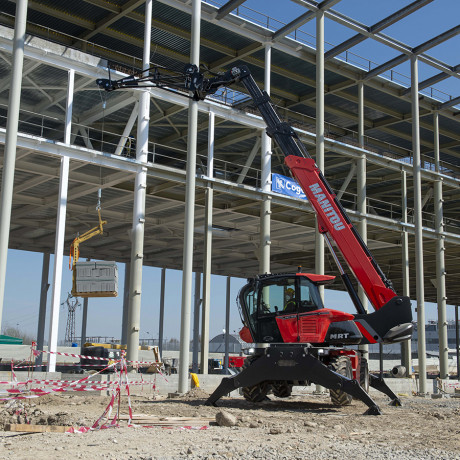 Manitou's many years of experience have led to the development of a new generation of rotating telescopic handlers: the MRT Vision.
These all-terrain telescopic handlers offer a high level of unique performance as Manitou further improves its rotary telescopic handlers, making your work easier and more productive.

The MRT Vision performs a working height from 16 to 25 meters (52 to 81 feet), as well as a working offset up to 19.40 meters (64 feet). This range handles maximum lift capacities up to 4,500 kg (9,900 lbs) with 3 steering modes; 2 or 4 wheel steering and a crab mode for angled movements.

The MRT Vision has been designed for even greater comfort, safety, visibility, speed and efficiency in everyday use.
Easy to handle, the MRT Vision are intelligent machines thanks to their joystick with recognition system, their sound indicators in case of overload or too much slope, their touch screen display that can be used with gloves, and their abilitly to handle loads via remote control. They are accessible from all 4 sides and have a pressurized cabin.
In addition, they provide unparalleled visibility, allowing you to handle loads with 360°panoramic views.

Finally, the MRT Vision machines are connected handling solutions allowing you to track the real time position of each unit, access to machine data and manage your fleet remotely.
Discover our range of rotary telescopic handlers
MRT Vision: telescopic handlers for all your handling needs
Every day, you need to handle, lift and move loads on your sites: the MRT Vision meets all your expectations, simplifying your work.

Depending on the constraints of your job, you can choose from a wide range of attachments adapted for your specific applications: platforms, floating fork carriages, pick-up buckets, two-hook jib, sweeper... these elements can be handled quickly and easily, making your machine even more versatile and efficient.

These MRT Vision handling solutions are perfectly adapted for masonry, siding, carpentry, demolition, renovation, tunneling sectors...
MRT Vision machines, like all Manitou machines, are available for rental or purchase through our dealer network. You will be able to optimize the use of your machines, thanks to the wide range of associated services: maintenance, repair, financing, parts replacement...

To discover the MRT Vision range, contact your dealer, who will be happy to advise and assist you.
Find out more