Our range of MTA telescopic handlers
MTA telescopic forklifts have been specifically designed to meet the North American needs of the construction, energy and civil engineering sectors. These machines optimize your material handling operations thanks to their unrivaled performance on the market. The MTA range offers telescopic handlers to meet all your requirements.
High-performance rough-terrain forklifts for the construction industry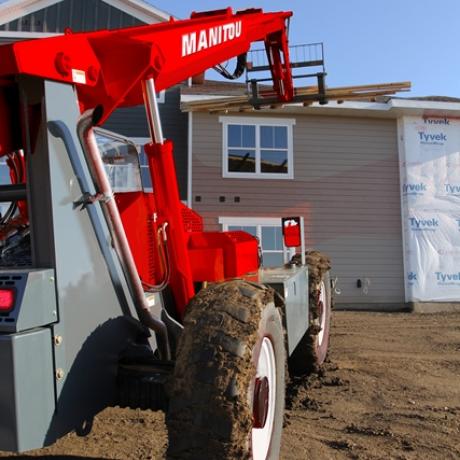 The MTA range of telescopic handlers have ideal features for the North American market to carry out your material handling work efficiently, especially in the equipment rental and construction sectors. Whether you want to lift, transport, place or set down loads, these high-performance machines offer ideal conditions of comfort and safety for your operations.
Very robust, MTA trucks can operate on all types of terrain, especially on rough terrain. The all-terrain design with high ground clearance, 4-wheel drive and 10 degree left/right frame level provide exceptional performance in the most difficult conditions.
Thanks to their telescopic structure, MTA machines allow you to lift and handle your loads at height very easily (up to 5444 kg for the MTA 12042. Maximum working heights vary from 5.8 to 16.8 metres depending on the model.
In terms of ease of use, these telescopic handlers are also at the cutting edge of technology and innovation. In particular, they offer a single multi-function joystick for moving the machine and controlling the boom including FWD/NEU/REV controls on the joystick.
Models with a lifting height of more than 11 meters are equipped as standard with a rear axle stabilization cylinder system and all models offer perfect visibility from the cab.
Finally, MTA trucks have the advantage of being versatile. Compatible with a wide range of Manitou accessories, they allow you to obtain a tailor-made solution for the different needs of your business.
Check out our MTA models
The advantages of MTA trucks for professionals
The MTA telescopic construction trucks have been designed by Manitou's experienced teams. Their unrivaled performance on the rough-terrain handling market makes them the benchmark solutions for professionals responsible for carrying out major construction works.
The advantageous characteristics of the MTA range:
Comfort and ease of use - 360 degree visibility, digital display, joystick with power steering, ergonomic operator's cab
Perfect maneuverability - 3 steering modes available (crab, 2 or 4-wheel steering)
Enhanced on-board safety
Structural strength and robustness
All-terrain design allowing to operate on all types of ground
Great versatility: accessories can be changed in a few minutes.
High lift height
Manitou machines also offer you several support services: repair, maintenance, replacement of original parts, after-sales service, tailor-made financing solutions...Call on our expertise to successfully choose an MTA construction telescopic forklift truck model adapted to your business problems! We are at your disposal at any time to help you optimize the use of your material handling machines.
Contact a Manitou dealer