Our range of 3D system platforms
Manitou offers a 3D pendular gondola system. This top-of-the-range accessory is compatible with several rotating telescopic handlers. Offering a positive and negative working area, it allows you to work under bridges in a perfectly safe way.
A gondola with a high-performance 3D system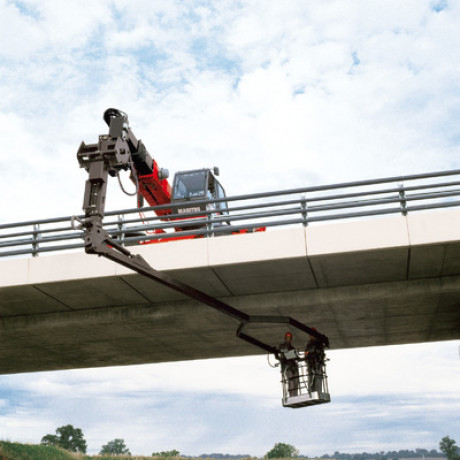 Manitou used all of its know-how to design a high-performance 3D gondola system. Robust and precise, this lifting solution enables you to carry out your handling operations at height efficiently, whatever your business constraints.
The Manitou pendular aerial lift is equipped with a telescopic arm - rotation of the arm at 170°/170°. Offering a positive and negative working area, it is particularly suitable for construction/maintenance work under bridges.
From a safety point of view, the 3D system platform has a set of systems capable of ensuring the smooth running of all your operations: arm position sensor, locking bar presence sensor, non-slip metal floor...
Our 3D system is compatible with several rotary telescopic handlers: MRT 1440 Easy, 1840 Easy, 2145 Easy, 2545 Easy, 2150 Privilege +, 2550 Privilege +, 2470, 3050, 3255... Check the compatibility of your machine before buying a 3D pendular gondola system!
The technical characteristics of the 3D pendular gondola system :
Load capacity (including users): 200 kg
Working width: 1.1 m
Rotation: 340°.
Number of legally approved operators: 2
Weight: 1100 kg
Use a Manitou3D pendular gondola system to ensure maximum safety for your teams. Our dealers are at your service to help you choose a lifting solution adapted to your business problems.
Get more information about the 3D pendular gondola system
The advantages of 3D platforms for professionals
The Manitou 3D system is one of the most innovative technologies on the market. Its advantageous features make it a handling solution favoured by the most demanding professionals in construction and industry.
There are several advantages to using a Manitou tilting platform:
Great ease of use
Optimal safety for operators
Positive and negative working area
Telescopic arm
Precision of movement and approach
Structure especially adapted for handling work under bridges
Simplified maintenance
The Manitou 3D platform can be easily attached to your rotating telescopic handler. Attach/unattach your attachment in a few minutes thanks to the high-performance attachment system on your machine.
Several other models of aerial work platforms are offered by Manitou: extendable aerial work platform, aerial work platform with winch, roofing aerial work platform, deep extendable aerial work platform, aerial work platform with removable roof... Opt for the range that can meet your requirements!
Manitou dealers will help you at every stage of your 3D aerial ladder purchase project. Take advantage of our personalized services to set up solutions precisely adapted to your objectives. Our teams are at your disposal at any time, wherever your business is located.
Contact our experts